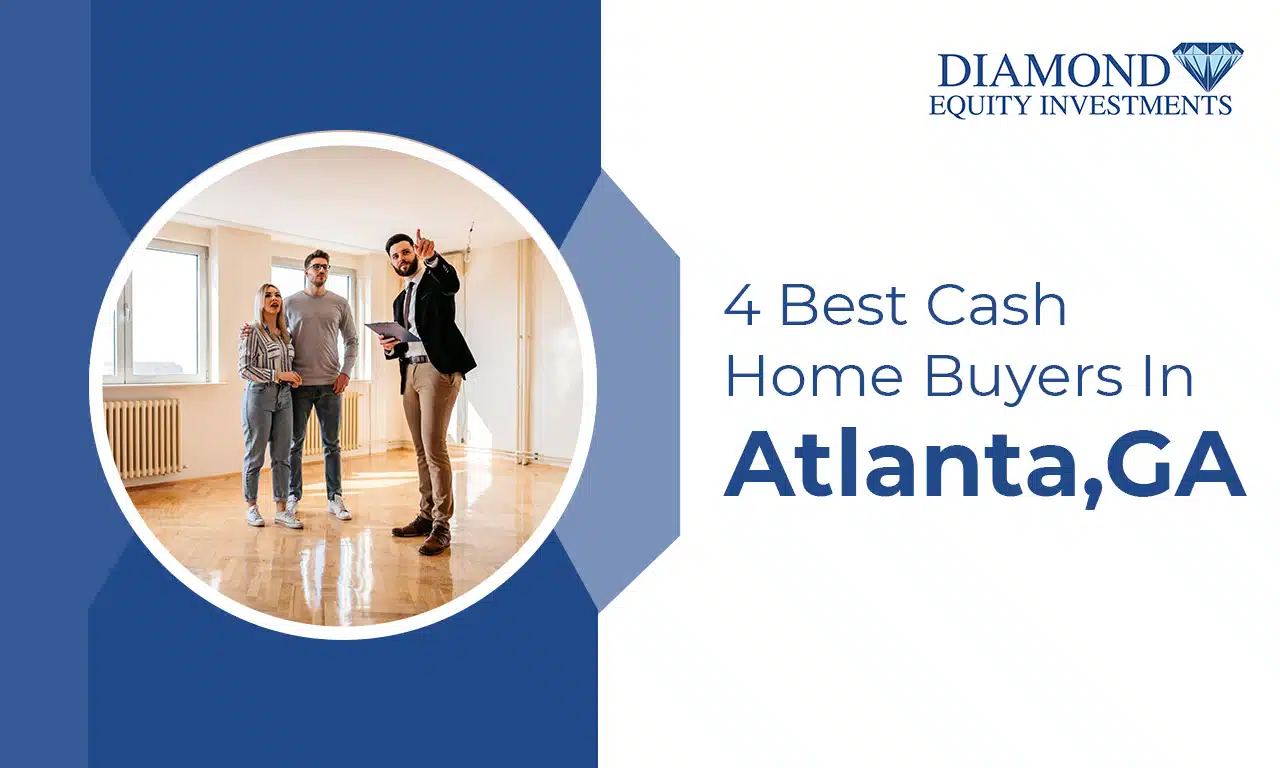 Are you looking for a stress-free way to sell a house fast in Atlanta? A cash home buyer can promptly take the property off your hands amidst any challenges. With numerous cash home-buying companies in Atlanta, finding a dependable company you trust is crucial. Each differs in closing dates, selling procedures, and, most importantly, cash offers. To assist you in making an informed decision, we've compiled a list of Atlanta's top five cash home-buying companies.
1. Diamond Equity Investments
Diamond Equity Investments is a reputable cash home buyer in Atlanta specializing in direct home purchases from distressed home sellers. With offices in Atlanta, Philadelphia, and Chicago, they purchase various properties, including homes, condos, apartment buildings, land, commercial offices, and industrial spaces in their current condition. The company has an A+ rating on the Better Business Bureau (BBB). It is also an official member of the Forbes Business Council, making it a trusted and reliable option for sellers. They have an impressive record of positive reviews and five-star ratings on Google from 190 satisfied customers. Diamond Equity Investments provides an on-the-spot cash offer after a brief inspection. They also manage the clean-out process and offer a quick closing in less than 14 days.
2. Maximum Cash Home Buyers
Maximum Cash Home Buyer was established in 2009 and is run by a dedicated couple based in Georgia. They are well known for delivering rapid closings, typically ranging from 7 to 30 days. What sets them apart is their willingness to purchase homes in various conditions, even those plagued by issues like mold or pests. They are a lifeline to sellers facing foreclosure or dealing with property tax liens. One of the standout features of their service is their commitment to covering your closing costs, which adds to the overall convenience of the transaction. However, the cash offer you receive may not be open to negotiation. While selling to Maximum Cash Home Buyers promises a hassle-free experience, this convenience does come at the expense of selling your home at a reduced price. Still, the company enjoys an impressive 4.8 out of 5-star rating on Google, a testament to its reliability and customer satisfaction.
3. We Buy Ugly Houses
We Buy Ugly Houses, also recognized as HomeVestors, has an extensive network of over 800 franchise locations nationwide, including Atlanta. Interactions with We Buy Ugly Houses may involve a more traditional, hands-on approach when requesting counteroffers or managing property inspections. The company decides its final cash offer after conducting a complete property inspection, which, on average, results in a minimum closing time of three weeks. Regarding customer feedback, the company holds an average rating of 4.4 out of 5 based on 1,590 reviews. Since We Buy Ugly Houses is a franchise, the level of service you receive may differ depending on the specific local office you contact.
4. Real Ventures LLC
Real Ventures LLC is a locally-owned cash home buyer with a sterling reputation in the Atlanta community. Their streamlined process commences with a straightforward online form, followed by a brief home visit and a fair cash offer. Their initial cash offer rarely sees price adjustments, typically between 50% to 70% of the fair market value of your property. However, this comes with the benefit of zero extra charges, including the coverage of your closing.
If you are looking for a trusted company that buys houses in Atlanta, contact Diamond Equity Investments. We buy houses in Atlanta and the nearby areas in any condition and situation for cash. Contact us for a quick cash offer today!
 Frequently Asked Questions
1. Are
Atlanta's "we buy houses for cash" businesses legitimate?
They are legitimate. However, you should always research the business before signing formal agreements because you may encounter scammers. Check out reviews on platforms like Trustpilot and Google to ensure the company is reliable.
2. How long does it take to sell a property in Atlanta for cash?
It usually takes between 7 to 30 days, depending on the buyer and the circumstances of the transaction.
3. Can I sell my Atlanta house for cash with a code violation?
Yes, they buy homes amidst challenges, including houses with code violations.
4. Do I have to pay any amount to receive a cash offer for my Atlanta house?
Cash home buyers do not charge fees to provide a cash offer for your Atlanta house.