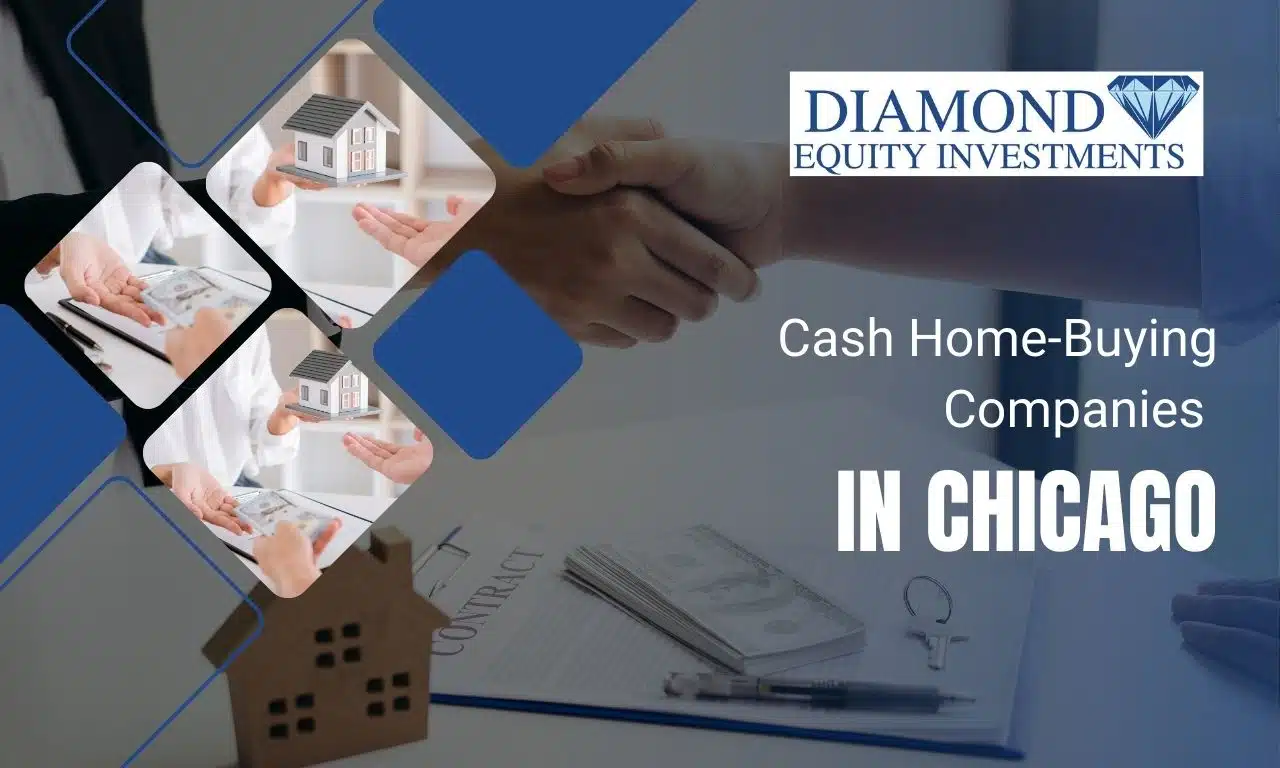 Are you thinking, "I need to sell my house fast in Chicago?" The companies that promise, "We buy houses" in Windy City might be the easiest solution. They can make you an offer within a day or two and wrap up the deal in no time, all according to your schedule. The best part is that they'll take your home as-is, so there's no need to make repairs.
But before you commit to any cash home buyers, it's smart to shop around and get multiple offers. That way, you can be sure you're getting a fair price for your place. We've gathered a list of top-notch companies ready to offer cash for your house. These options allow you to sell your Chicago home in as little as one to two weeks.
1. Diamond Equity Investments
Diamond Equity Investments is your go-to cash home buyer in Chicago if you want to sell your home quickly for cash. With 15 years of experience, they buy houses for any reason, in any condition, including those with issues like bankruptcy, foreclosure, fire damage, large liens, title problems, or low equity. They promise a fast, easy, and transparent process, often closing within a week or two.
Positives: No closing costs, prep costs, or agent commissions
Drawbacks: None
2. USA Cash Offer
USA Cash Offer operates nationally and connects home sellers with reputable cash home buyers in and around Chicago. Their services extend throughout Illinois, making it accessible even if you're just outside Chicago. Reviews highlight their fast and easy process, with some customers receiving same-day property walkthroughs.
Positives: Broad coverage, flexible closing dates, no upfront costs, and no closing costs
Drawbacks: None
3. Sell My House Fast Chicagoland
This company provides a free and easy way to sell a house fast in Chicago. You can expect a competitive, no-obligation offer within 24 hours of submitting basic information. Sellers can pick their closing date and don't need to worry about repairs or cleaning. After filling out an online form or making a call, a representative visits the house to make an offer on the spot.
Positives: Fast cash offers, zero service fees, fast closing, and firm cash offers
Drawbacks: Some reports of lowball cash offers and inconsistent service quality
4. Heartland Buys House
Heartland Buys Houses specializes in purchasing homes in the Greater Chicago area. They provide offers within 24 hours. Customers appreciate the fast and easy service with responsive customer support.
Positives: Flexibility in terms of closing time and no service fees
Drawbacks: Lowball cash offers, non-negotiable offers, and inconsistent quality of service based on the investor
5. We Buy Houses Chicagoland
We Buy Houses Chicagoland emphasizes a fast and hassle-free selling process built on years of professional experience and a high volume of transactions. They claim their expertise translates into competitive offers on houses. Their approach involves a free in-person consultation at the property, firm cash offers, and fast closings.
Positives: Fast cash, flexible closing times, and the option to sell your property as-is
Drawbacks: Limited reviews, cash offers may be lower than what you could get on the open market, and service quality may vary depending on the independent investor
6. Finally Sold
Finally Sold operates throughout the US, including Chicago and all of Illinois. They make an offer after an in-home consultation and can close in as few as ten business days. They compare their offer and what you could expect by selling with an agent, ensuring transparency.
Positives: As-is sale, flexible closing, no additional costs, personalized services, and nationwide coverage
Drawbacks: Some reports of lowball cash offers, non-negotiable offers, and inconsistent service quality
7. Festival Properties
Festival Properties specializes in solving problems for families. They promise a no-obligation cash offer within 24 hours of reaching out and closing in as little as seven days. They'll buy houses as-is, regardless of their condition.
Highlights: Fast cash offers, flexibility in closing times, and no additional costs
Drawbacks: Offer cash amounts lower than market home value, tech stack is limited, and service quality may vary
Frequently Asked Questions About Cash Home Buyers in Chicago
1. How do cash home-buying companies work?
Cash home-buying companies in Chicago are usually owned by real estate investors. They are on the lookout for good deals, often focusing on distressed or unwanted properties that regular homebuyers might not want. They make fast, all-cash offers to purchase these homes at a discounted price. Afterward, they handle the necessary repairs and then sell the properties to make a profit. At Diamond Equity, we buy houses in Chicagoand nationwide and take care of all the details, like sorting out the paperwork and helping you find your next place.
2. When should you consider selling to a cash home buyer?
Selling a home to a cash home buyer is smart if you need to sell your house fast and don't have the time or resources to fix it. It can also be the best solution if you need to sell your property fast.
3. What sets cash buyers apart from traditional real estate agents?
Cash home buyers in Chicago are ready to buy your home right now. They offer a direct solution that eliminates the need for listing, staging, and tedious procedures. Cash buyers don't charge listing fees, agent fees, or commissions, and you don't have to worry about making any repairs or improvements before selling.
4. Will I get a fair offer or a lowball offer from cash buyers?
All cash buyers strive to provide a competitive and fair offer. They arrive at a cash offer based on after-repair value, market trend, location, and condition of your home. While you might get a higher price through a traditional agent, considering all the costs and efforts involved, that extra profit can quickly disappear.
5. Do I need to fix up the property?
Cash home buyers specialize in purchasing properties in their current condition. All you need to do is contact them and share your property details to enjoy a hassle-free home sale.